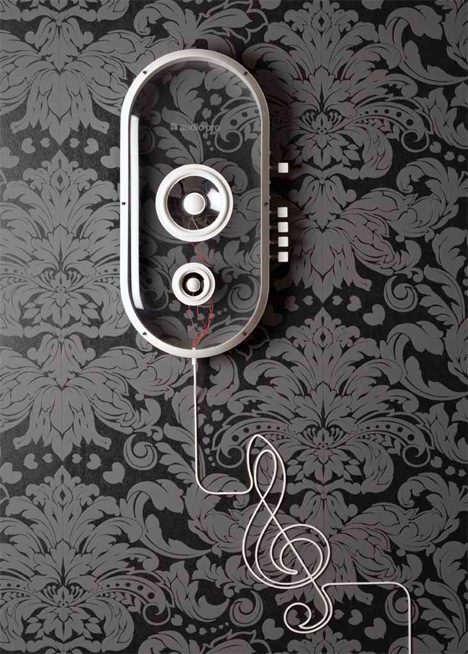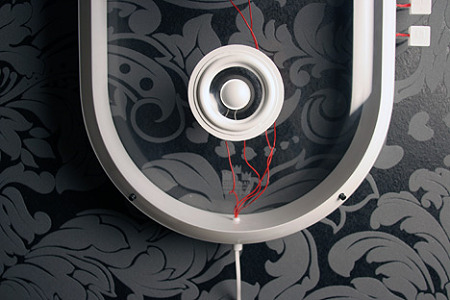 Designer:
Per Brickstad
27
・PLUG + PLAY
Universal plug and play system for all audio devices.
Wireless A2DP Bluetooth Connection.
Experience the ultimate combination of innovation, sound,science and style.
●DESIGN PROCESS
199
・1/12
This ten week industrial design bachelor degree project was carried out in collaboration with Audio Pro.a Swedish speaker company with a long tradition of delivering high quality speakers. The project was carried out with a solid research phase to identity needs from the user's perspective.
200
・2/12
Playing music at home has in the past been logical and intuitive because of the physical storage formats.
Today we handle music in our computers.mp3 players and cell phones.How can you achieve a similar logic and available playing situation when the music is stored in a digital format?
1
・3/12
I carried out different user studies to investigate which problems occur while playing digital music at home today.A user group took part in a workshop to identify problems and make flow analysis. I invited a bunch of people to a user party.where th guest were to play their own music from their own mp3 players in a genuine social environment. I also posted a thread on different online discussion forums, and had over 2000 visitirs within a week that helped out with problem identification.I also interviewed users in wheelchair.rheumatic and blind users.
2
・
3
・
4
・
5
・
6
・
7・
8・
9・
10・
13
14
15
16
17
18
19
20
21
22
23
24
25
・
Plug & Play – Wireless Speaker System by Per Brickstad » Yanko Design
"In the future, homes will have a wireless network for all products. To bridge the technology gap until then, the PLUG + PLAY wireless speaker system makes all ones music available, regardless if it is stored on cell phones, PCs or MP3 players. The transparent speakers deliver high sound quality and blend into most interiors. Audio files are transmitted from ones device to PLAY by small PLUG elements.
The plugs were to be plugged into many different mp3 players, computers, cell phones etc.. it needed to be comprehended as a part of the system. The result is a system of speakers with bluetooth receiver, and plugs with bluetooth sender.
The plugs dock into the side of the speaker for charging, and in the speaker has a transparent LCD-display in the glass, providing information about song title, equalizer, etc."